Foundation of Tuzla community
Mama i ja programiramo
DECEMBER 1st, 2022 | AZRA BAŠIĆ
A large number of parents today do not spend enough quality time with their children. Although studies show that parents are actively involved in a child's life today compared to 50 years ago, parents and especially mothers feel that they are not doing enough. They are expected to guide and nurture their children through every aspect of growing up and to be involved in all their activities. A negative consequence of this is too much time spent in front of the screen, especially for small children, which leads to a lack of attention and focus.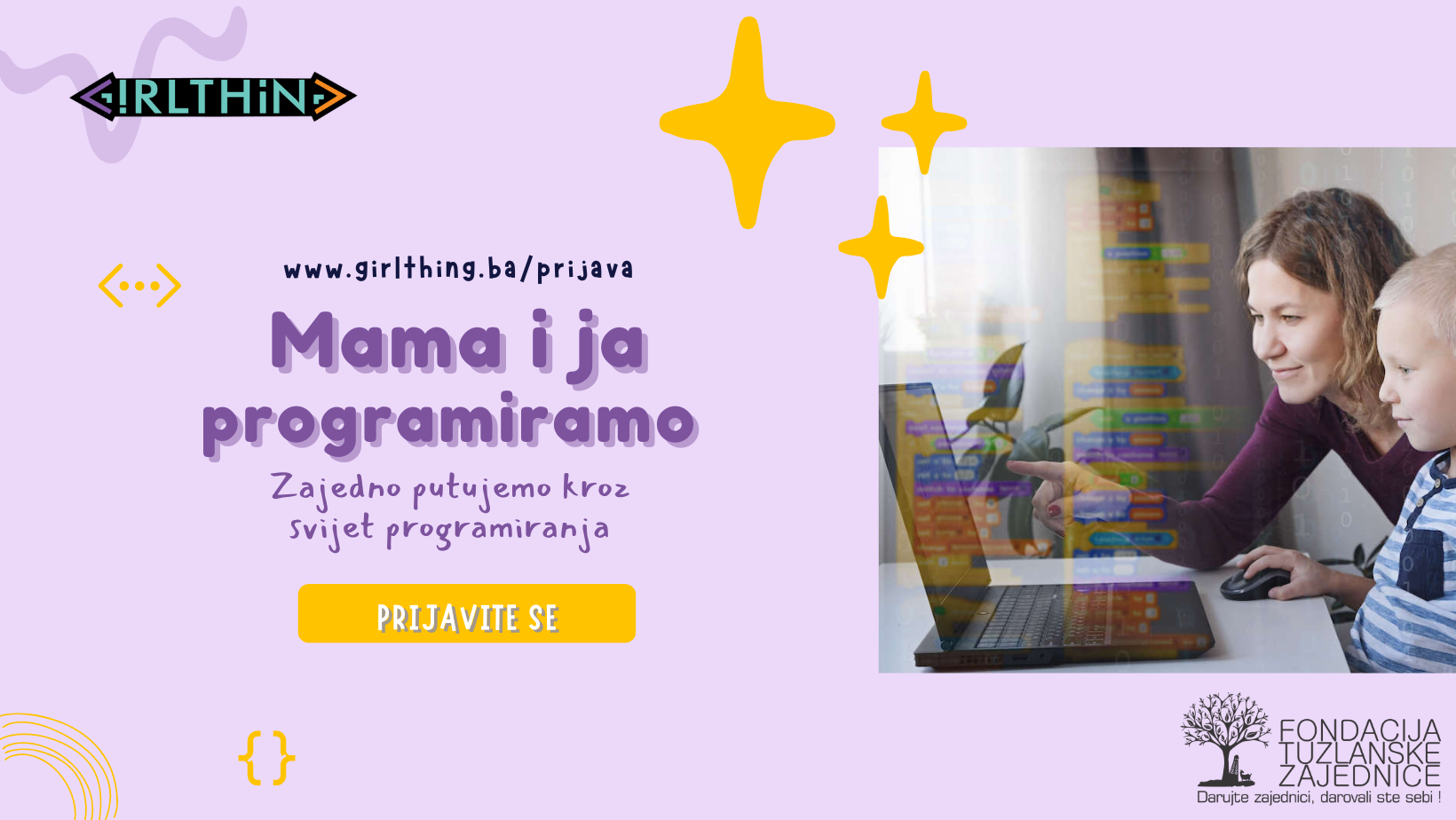 About the project
Today, a small number of children are involved in researching their interests and a large number of boys and girls do not have the opportunity to learn some new concepts, unless their parents allocate a certain amount of money and time to fit all the responsibilities into their already busy schedules. As a potential solution to the aforementioned problems, we would like to organize weekly programming classes for mothers and their children in the city of Tuzla.
The idea is that children and their moms are exposed to coding and have the opportunity to create together, and therefore can learn together. Educational units for this purpose are based on the block method of programming, which is very easy to master and allows users to build expertise and work on more complex programs with time and experience.
Activities
The project plans to implement a total of four workshops.
The first workshop will be of an introductory nature, where we will all learn together what variables and loops are in a slightly different and more picturesque way, and we will get to know the environment in which we will work in the following workshops. The goal is for everyone to have fun, learn something new and spend a gloomy and cold winter day in a quality way. At the remaining three workshops, participants will work independently on developing their program on a given topic, or story.
Our expectations
The advantages of such activities are multiple, and we expect that children develop a sense of programming and STEM technologies, and mothers spend quality time with their children, while having the opportunity to simultaneously encourage them to think, communicate and express themselves creatively.
Time and date of the project
The workshops will be held in the premises of BIT Center 1 Tuzla at the following times:
GROUP 1 - Thursday from 17:30 to 18:30
01.12.2022.
08.12.2022.
15.12.2022.
22.12.2022.
GROUP 2 - Saturday from 10:00 to 11:00
04.12.2022. (Sunday)
10.12.2022.
17.12.2022.
24.12.2022.