Foundation of Tuzla community & USAID
Osnaživanje STEM studentica: inicijativa za zaštitu mentalnog zdravlja
MAY 20th, 2023 | ALISA BARALIĆ
Mental health is becoming an increasingly important topic in today's society, and especially among female students who often face various challenges. High academic demands, pressure to succeed and demands of social interaction are just some of the factors that can negatively affect the mental health of students.
About the project
The project "Osnaživanje STEM studentica: inicijativa za zaštitu mentalnog zdravlja" is intended for all female STEM faculty students, with the aim of increasing knowledge and awareness of mental health. Challenges Facing STEM (Science, Technology, Engineering and Mathematics) Students areas can be particularly demanding and stressful. The educator on the project is Teufika Ibrahimefendić, a certified Gestalt therapist.
This project was supported by the Tuzla Community Foundation within the project "Naša zajednica je naša odgovornost" which is implemented in the territory of Tuzla Canton with the support of USAID, within the framework of the Power of the Local program.
Activities
The project consists of a total of 2 psychoeducational workshops on mental health problems and empowering female students at the individual, group and community level and 3 psycho-educational training on the development of self-confidence and self-esteem, and about positive thinking, self-acceptance and self-promotion.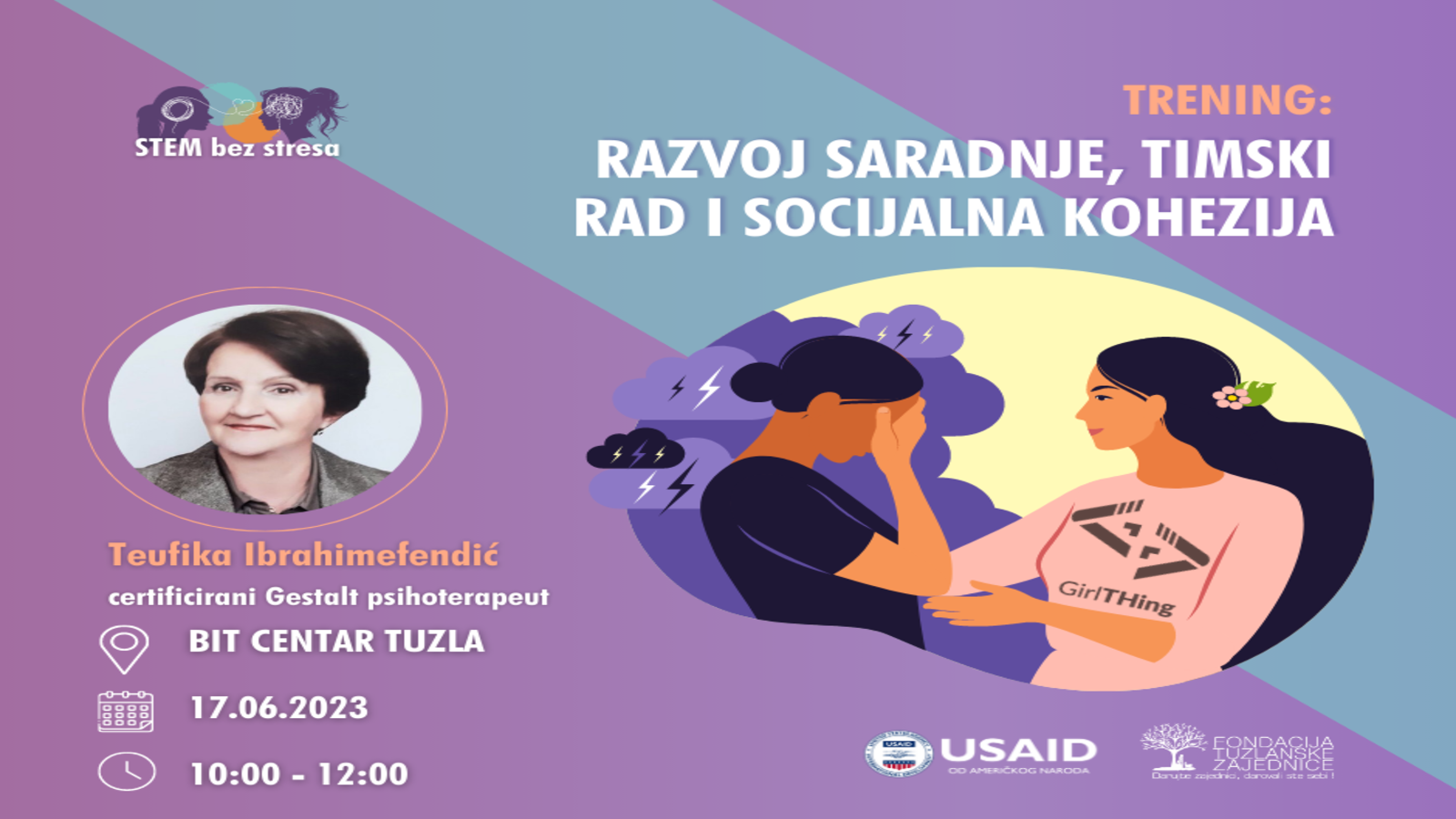 Project goal
Our project aims to increase the self-confidence and self-esteem of female students, we focus on reducing stigma and ensuring female students feel safe and accepted in expressing their feelings and needs. Through education and empowerment, we want to promote a culture of openness and support among female students, and encourage seeking help when needed.
Time and date of the project
The workshops and trainings will be held in the premises of BIT Center 1 Tuzla at the following times:
27.05.2023. (10:00 - 12:00) - Workshop "How important is it to take care of mental health?"
27.05.2023. (12:30 - 14:30) - Workshop "What is a public performance?"
03.06.2023. (10:00 - 12:00) - Training "Self-esteem, confidence and self-image"
03.06.2023. (12:30 - 14:30) - Training "Prejudice, stereotypes and discrimination"
17.06.2023. (10:00 - 12:00) - Training "Development of cooperation, teamwork and social cohesion"