Bingo City Center & Bit Center & Madi
Girls in ICT day 2022
APRIL 1st, 2022 | LEJLA BAŠIĆ
Since 2011, more than 377 000 girls and young women have participated in more than 11 400 of International Girls in ICT day celebrations in 171 countries, all around world. Governments, national ICT regulatory authorities, ICT companies, academic institutions, agencies of United Nations and non-governmental organizations around the world are encouraged to join the movement and celebrate International Girls in ICT day.
About event
The International Day of Girls in ICT (Information and Communication Technologies) is celebrated every year on the last Thursday of April. Association of young women GirlTHing celebrates this day for the forth year in a row, each time in a different and more creative way. The subject of this years' International Day of Girls in ICT sector is "Children's Safety on the Internet". Given that the work of the association is partly related to work with the youngest girls, very important part of their upbringing is safety on the Internet. This years event will be held in TC Bingo City Center in Tuzla, and it's intended for girls aged between 7 and 13, who will have the opportunity to meet Charlie the robot and the rest of his LEGO robot team. They will have the opportunity to talk, learn and have fun in the world that is much more than some cables and screens. In addition, this will be a great opportunity and for parents to get informed about ways how they can protect their children on the Internet, and to get the informations about free applications they can use.
Activities
Future young scientists will have the opportunity, with the support and help of our Association members, to learn about super powers of every girl in the world of science, to meet Charlie the robot, and his LEGO robot team, to hang out with slightly older girls and to enjoy in the surprises that await them.🤖 Our little scientists will be divided into groups of 3-4 girls each. Each groups will have its own trainer who will in the period of 45 minutes explain and show the basics of programming robots through interesting little tasks. While that, Charlie and his robot team will shouw you how to stand up against virus, how to search pages, who are your Internet friend, and who are not and why the name of your pet can not be your password.🧐🤔 In hope that we tickled your imagination and awakened your curiosity, we eagerly await you!🥳
Date and time
Thursday, 28th of April, the first group of girls starts at 15:00, and the last (fifth) group starts at 19:00 on the Central square of Bingo City Center in Tuzla.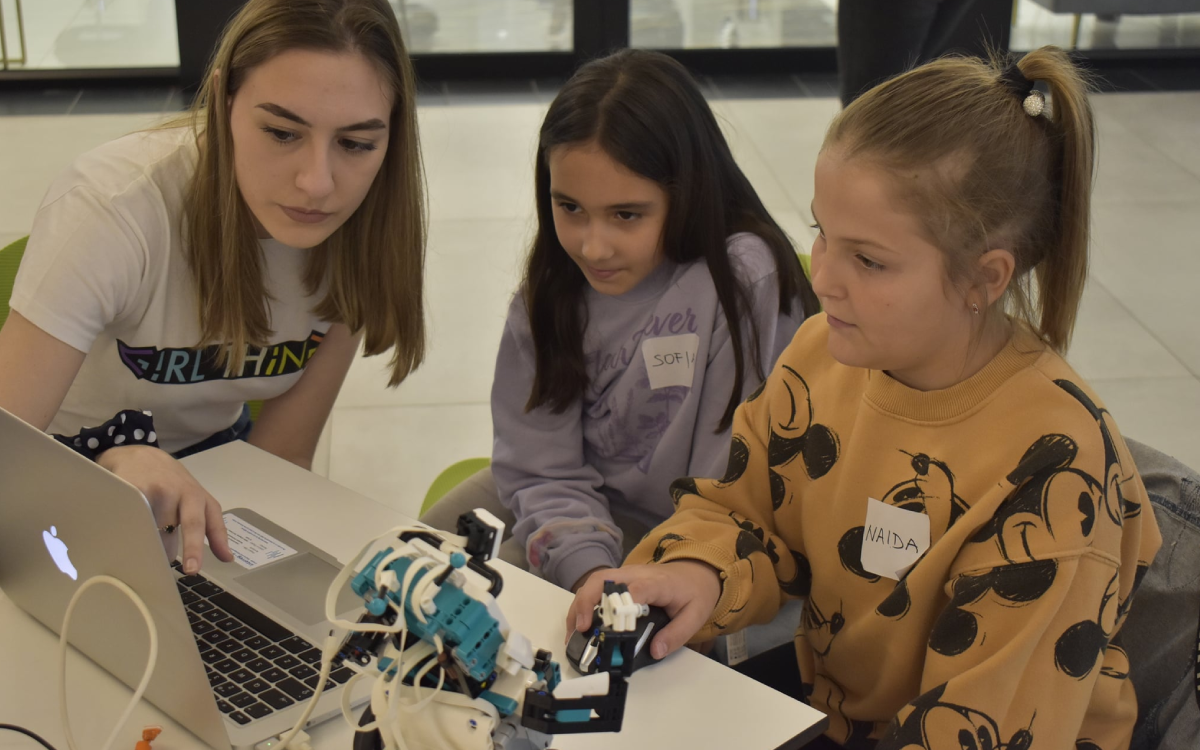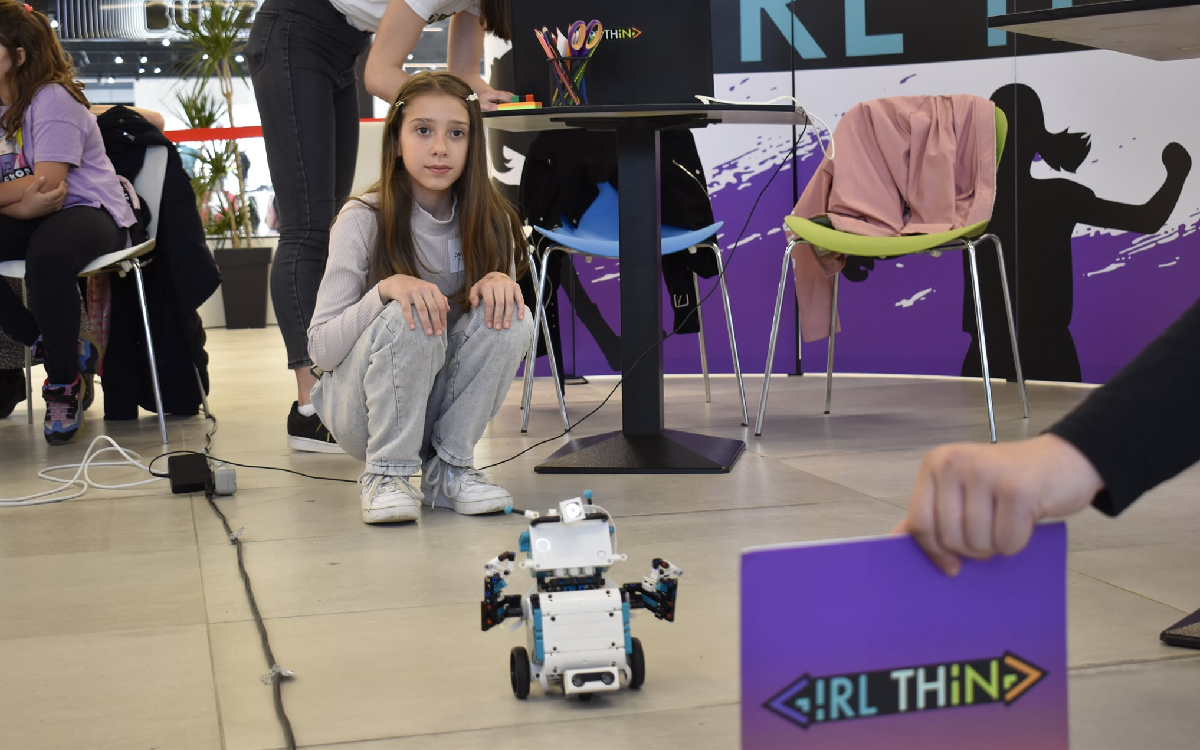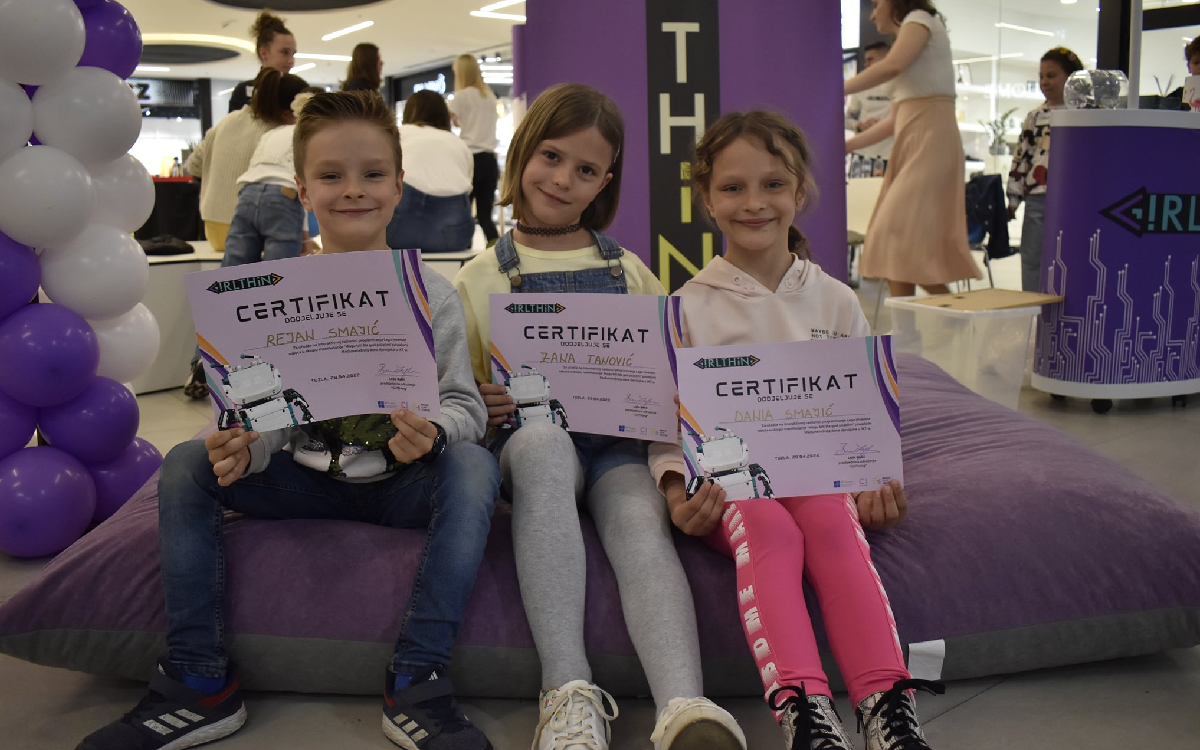 In the period from 15:00 till 20:00 more than 70 young scientists with the help and assitance of trainers, members of our Association, had the opportunity to learn the basics of moving the LEGO robot, how to use distance and color sensor, and to talk a little more about safety on the Internet.